Thank You, Mom ... For Everything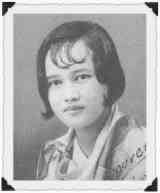 Eulogy for Mom - Marion Yuki Akahane Cornelio
Presented By: Michael Cornelio, July 29, 1999
I'd always hoped that the day and time would never come when I would have to be here to do this, but now that the time has come, I am privileged to speak about the life of my mother on behalf of my brothers and sisters and the rest of the Cornelio family.
Thank you all so much for being here today to honor our mother. Indeed it is a sad time for us in losing her from this world, but it is also a time to rejoice that she has gone on to the reward that God has prepared for her in heaven.
Rather than recounting facts about Mom, I thought I would take this opportunity to give those of you who did not have the privilege of knowing her a few mental images of who she was and how she lived her life. For those of us who did know her, this is a small reminder of what it is that we will miss now that she's gone.
For God so loved the world, that he gave his only begotten Son, that whosoever believeth in him should not perish, but have everlasting life. (John 3:16 KJV)
… a simple verse that Mom learned as a child. It was her favorite and it gave her hope in a time when life was hard. But it was evident that Mom did more than just believe because she lived her life in a way that showed that God was working through her.
The book of Galatians, Chapter 5, Verse 22 says:
But the fruit of the Spirit is love, joy, peace, patience, kindness, goodness, faithfulness, gentleness and self-control. Against such things there is no law. (Galatians 5:22 NIV)
If there were anyone that embodied these qualities, it was certainly our Mom.
Love. As a mother, she was the personification of love. The Bible defines "Love" by saying:
Love is patient, love is kind. It does not envy, it does not boast, it is not proud. It is not rude, it is not self-seeking, it is not easily angered, it keeps no record of wrongs. Love does not delight in evil but rejoices with the truth. It always protects, always trusts, always hopes, always perseveres. Love never fails. (1 Corinthians 13:4-8a NIV)
Certainly, these words are an apt description of our mother.
Joy. She was born in the small town of Holualoa in Kona to Yosoburu Akahane and Emily Alawa. I always imagine mom as a happy child because she seemed to always be smiling and laughing. Even now, I can picture her picking coffee or hanging clothes, or seating guests at the Dining Room at the Kona Inn--always with a smile. Mom lived the Spirit of Aloha. She always had a kind word of greeting for every one. Friends and strangers alike were always treated with the same warm smile, friendly greeting and respect. She loved to sing and play her ukulele. Some of my fondest memories are of the whole family singing together in the parlor--Dad on his guitar and mom on her ukulele singing alto.
Peace. She was a woman of peace. Not just a peacemaker, but she seemed to be at peace with herself and the world. She seemed content in whatever situation she found herself in. She worked hard and hardly ever complained about anything. She enjoyed the peacefulness of her garden--weeding, planting, and just watching things grow.
Patience. She had the patience of Job himself. Her patience came in handy when she taught us at home or at the local elementary schools in Kona. She never raised her voice but with firm encouragement she pushed us to better ourselves. She was genuinely interested in seeing her students do well and many of them, even a former Astronaut, has returned to thank her for her leadership and influence. She was quite the scholar herself--well versed in English and Literature and conversant in three other languages.
Kindness. What is love, if not charity. Mom was a kind and charitable person. She liked to get involved in her community. She would volunteer for just about anything--the PTA, church committees, clubs. During her senior years, when she could, she would even take older seniors on shopping trips. Her random acts of kindness probably went unnoticed by most but she didn't mind. She just enjoyed doing them.
Goodness. I never heard Mom utter a bad word or speak ill of anyone in all the time that I knew her. She never spoke of disappointments or regrets. She always thought the best of everyone and everything. When there was a need that she could meet, she was there to meet it. Never with a fuss, never with a thought to being repaid, just there to help when needed.
Faithfulness. Mom's faithfulness is best described by the things that she did and how she lived. She was faithful to a friend in caring for her daughter after her friend died. She was faithful to care for her mother through prolonged sickness. She was faithful to care for her extended family. She was faithful to her husband of more than sixty-two years. She was faithful to stay awake until her children were safe at home in bed. She was faithful to save for a rainy day. For me, the picture of faithfulness that I will always remember is how she would always be waiting on the front porch for us when we came home from far away. Though seasoned by many years, she had the faith of a child and she remained faithful in prayer throughout her life.
Gentleness. Mom was a quiet and humble person. From modest beginnings to working her way through high school and on to the University of Hawaii; with rare exception, through her marriage, her twilight years and finally even to her final moments, she remained, gentle in heart and in spirit. She spoke with a quiet and gentle yet clear and somehow musical voice that was filled with a mixture of laughter, innocence and sometimes a quiet sadness.
Self-Control. Mom was not a stranger to tragedy. From the loss of her father when she was very young; to the loss of her second son Francis at two months of age; through lengthy personal illnesses; to the loss of her mother whom she lovingly cared for; to the loss of her beloved husband just four years ago; and finally, to the deterioration of her own body--her iron will sustained her to the end. She never used circumstances as an excuse to lose faith or give up her values.
Yes ... Love, joy, peace, patience, kindness, goodness, faithfulness, gentleness and self-control. That about sums up how mom lived her life. In a land where all kinds of fruit grow in bounty and abundance, our Mom chose to grow the fruit of God's Spirit in her life. She shared it with those of us who were lucky and privileged to know her. She had Love and Aloha for all; Joy and Peace that gave her hope from within; Patience, Kindness and Goodness in all her dealings; Faithfulness to God, her family and friends; Gentleness and Self-Control to keep her spirit strong.
Surely the Bible speaks of her where it says in Proverbs 31:25-29:
She is clothed with strength and dignity; she can laugh at the days to come. She speaks with wisdom, and faithful instruction is on her tongue. She watches over the affairs of her household and does not eat the bread of idleness. Her children arise and call her blessed; her husband also, and he praises her: "Many women do noble things, but you surpass them all." (Proverbs 31:25-29 NIV)
As her children, we're thankful that God gave her to us for eighty-six good years, that He took her to Himself in His time with dignity and grace, and that we had the honor and privilege to call her simply: Mom. And even though it seems inadequate, it is with the most grateful of hearts we say (in Hawaiian):
"E Mahalo ia oe e Mama … no na mea apau."
... "Thank you, Mom … For Everything."
---
© Copyright 2004-2018, The Cornelio Group